Salons 2015 | 3rd of July | 4th of September | 2nd of October | 6th of November | 4th of December
What? See the main Salons page
Where? The Bond Co., Fazeley Street – come to reception and they'll show you which room we're in.
When? 1pm to 5pm.
Who? Co-curated with Ruth Claxton, guest speaker Eleanor Morgan.
How much? Free! But you must book a place through Eventbrite
Eleanor Morgan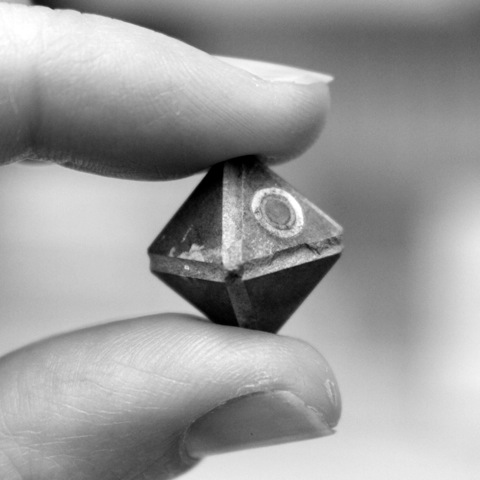 Eleanor Morgan is an artist based in London working with printmaking, sculpture, video and drawing. She is interested in materials and processes of making, in particular how human making intersects with that of other animals. She is currently Leverhulme Trust artist in residence at the Grant Museum of Zoology, where she is exploring their collection of glass sponges – animals that are formed of 90% silica. Her forthcoming exhibition at the Museum entitled 'Glass Delusions' (October 1st-December 19th) will explore the slippery boundary between living and non-living materials, and will include 'The Mudlark Diamonds' – tiny diamonds made from the dead creatures of the River Thames.
Morgan's other projects have included rubbing fish, embracing a giant sea anemone and serenading a spider. She often works with researchers and makers in other fields, including acoustic engineers, chemists, geologists and zoologists. Her book on the human uses of spider silk, Gossamer days: spiders, humans and their threads, will be published by Strange Attractor Press in Spring 2016.
Ruth Claxton
Ruth is an artist, Associate Director of Eastside Projects, co-producer of the Birmingham Art Map and half of Workshop Birmingham. In 2014 she worked with Alessandro Columbano, Michael Dring and Sean O'Keeffe to develop the Birmingham Production Space proposal which imagines a new national centre for the production of art and design in Birmingham. She and Sean O'Keeffe are currently developing Workshop Birmingham, a new project which aims to connect artists, makers and designers with manufacturers and industrial processes in order to develop new skills, knowledge and working relationships.
What are you working on?
A core part of the Salons is giving people a chance to talk about, demo and ask questions of the projects they're working on at the moment. That means you? How can a room full of curious, intelligent people help you move forward?
Get in touch and let us know if you'd like to harness the power of a many and varied audience to feed into your work.
Book your place
Places are free, but please do book your place via eventbrite (where there are also more details about timings etc).